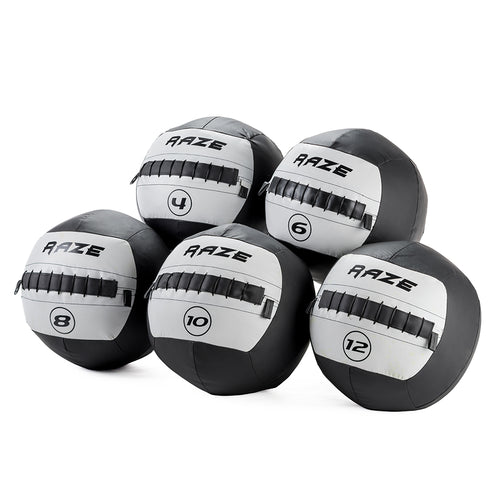 Wall Balls
SKU:
AXWB01-1
Constructed from high quality textiles with double stitched seams throughout – this highly durable yet soft construction makes it suitable for all user abilities and fitness levels, by reducing the chances of impact injuries when thrown forcefully and caught.
Lighter wall balls can be used for traditional core strengthening exercises such as weighted sit-up & throws, Russian twists, but also in early stages of rehabilitation and with smaller athletes. The heavier wall balls are to be used for carries, loading drills, explosive throws during power development sessions and in conditioning workouts, making them a must for any serious training facility where steady progression is required.
Each ball is the same 36cm (14") diameter so you can progress up and down the weights without having to worry about altering your technique, and this is particularly useful in group fitness and PT environment where you have different size and shaped users.
Available in weights from 4kg to 12kg.
We Also Recommend
Tracked UK Delivery from £5
Over 90% of orders placed before midday (12 noon) are received the next working day
Trusted Since 1907
Rated 'Excellent' on TrustPilot, we stand as a trusted authority in the industry
Commercial Discounts
Speak with our team for a tailored quote on equipment or to kit out your facility
Safe Secure Checkout
We use the most trusted payment processors globally to safeguard your transactions