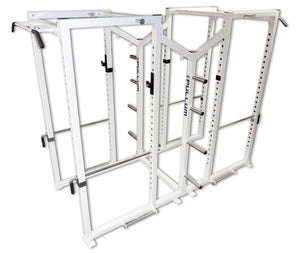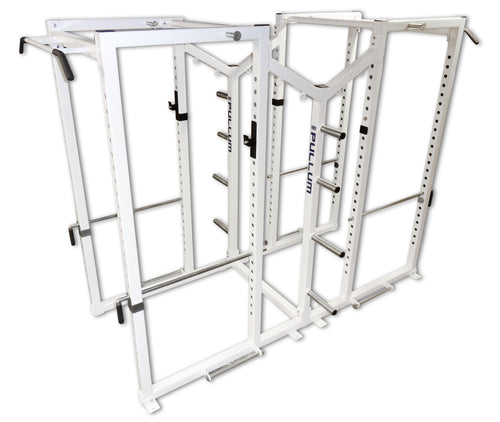 PULLUM PRO-R Back-Back POWER RACK
SKU:
BUILT FOR POWER - MADE TO LAST - Double UP
Take either of our market leading Power Racks ( Half or Elite) and sit them back-back to get twice the training options.
Added to our range to give our customers even more options for todays Commercial Gym
he Pullum PRO-R Power Rack is a solid and hard wearing power rack that's built to withstand the rigours of any commercial gym.
Key Features:
- Ultra close hole spacing;
- Roller catch-cups;
- Multi-position Chinning Bar;
- 8 Disc Storage Pins
- 2 Bar stores
- Quick Change Safety Bars
- Indexed hole markings to speed up height setting;
- Resistance Band Pins;
With a hand-made steel frame construction and a durable powder coat finish, the uprights offer 46 positions (in 4cm increments) giving your clients maximum flexibility as they train; and the adjustable safety spotters, adjustable catch-cups, resistance band pins and external chinning bar give you the freedom to perform a range of exercises.
The chinning bar offers 3 neutral or parallel hand grip positions and a wide range for the inline or supinated grip. With a 120cm cranked end you can take a really wide grip and develop the back muscles. By keeping the parallel grips within the chin bar it frees the chin bar for use to do muscle ups and ensures anyone lifting overhead minimises the risk of getting tangled up in the handles.
Our racks come with a pair of roller catch-cups. The locking mechanism ensures the cups cannot be knocked off the rack and the rollers allow a loaded bar to be centralised after lifts without damage to the bar or the cups.
Our safety bars are designed to protect lifter from injury but at the same time will bend under heavy load in order to protect the expensive Olympic bars from unnecessary damage if a lifter has to dump it during a lift.  We have intentionally stayed away from solid box section safety's it is cheaper to replace your safety bars than your Olympic bars!!!
We have recently modified our bottom band pins. This gives users more positions to fix bands and with added width of the pins sitting in-line with bar means fixing the bands to the bar is simpler and less of a pull on the band to come off during use.
Hand-made in the UK from high quality box steel, the powder-coated frame can handle the toughest of environments. Our rack is connected via 12 bolts in total, this ensures  minimal movement of the rack once assembled. You will notice the difference between ours and an imported flat pack version.
Suitable for all squatting, pulling and pressing movements, the Pro-R Power Rack lets you work out in total safety either inside or outside the rack.
Available in a range of colours.
Measurements (LxWxH): 165 x 114 frame (180 across storage pins)  x 240 cm 
Product weight: approx. Half Rack - 200kg Elite Rack - 275kg
Made in Britain
Finance Available
Heavy duty commercial build quality
Bar storage as standard
10 Year Warranty
Plug-in Options:
- Dipping handle:
- Squat Handles;
- Grappler;
- Loop for resistance training;
- Step-up Platform;
- Plug-in Jammer Handles;
- Prone Row;
- Technique Trays
Click to see our Integrated Platforms
Please Note: Pullum kit is made to order so please allow up to 6 weeks for manufacturing time.
We Also Recommend
Tracked UK Delivery from £5
Over 90% of orders placed before midday (12 noon) are received the next working day
Trusted Since 1907
Rated 'Excellent' on TrustPilot, we stand as a trusted authority in the industry
Commercial Discounts
Speak with our team for a tailored quote on equipment or to kit out your facility
Safe Secure Checkout
We use the most trusted payment processors globally to safeguard your transactions