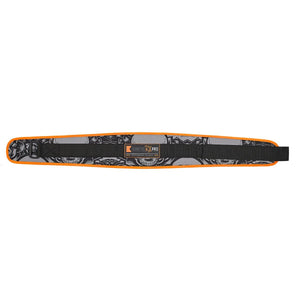 KINETIC RX PRO SKULLDUGGERY MULTI-PURPOSE WOD AND FITNESS BELT (FULL)
SKU:
ABKS01-3
Anatomically designed for fit and comfort.
Double closure system and heavy duty steel slide bar buckle.
Lightweight Neoprene and Nylon construction.
Super-strong and extended length re-enforced Velcro fastening.
Quick and easy on and off access.
14cm width back support
KINETIC RX PRO, is a cutting edge portfolio of Functional Fitness products with a difference. Our difference is Quirky, Functional, Technical and Kick Ass products that will bring out the fun-loving side in the serious athlete in you.
Designed and born out of years of experience with a leading Swedish brand in body supports, our products have evolved to bring you improved features and benefits at affordable prices, giving you everything you need to achieve your personal best.
Our ethos is to continually be thinking INSIDE and OUTSIDE the BOX to bring you, new designs with limited edition prints, ensuring our designs remain fresh and our customers remain exclusive. We don't believe in following trends, we believe in creating them!
Preventing spine flexion during sports such as weightlifting is important to prevent strains and injuries from occurring. The Kinetic RX Pro WOD Full Length Fitness Belt is designed for precisely that type of protection. Fitting securely around the waist, the full length belt has a strong Velcro fastening to prevent it from coming undone and is constructed using lightweight neoprene and nylon for additional comfort. Anatomically designed to fit the body, the Kinetic RX Pro Fitness Belt is supplied in three bold designs to add a little fun to your routine.
Features of the Kinetic RX Pro WOD Full Length Fitness Belt:
Full length WOD fitness belt to prevent spine flexion
Anatomically designed for fit and comfort
Double closure system to prevent the belt from slipping or falling
Heavy duty steel slide bar buckle for added support
Lightweight and comfortable thanks to the Neoprene and Nylon construction
Velcro fastening that has an extended length and is super-strong
Fastening ensures quick and easy access both on and off
14cm width back support to provide stability during your routine
        INCHES         CM
M      33 - 38            83 - 96
L       36 - 42            91 - 107

We Also Recommend
Tracked UK Delivery from £5
Over 90% of orders placed before midday (12 noon) are received the next working day
Trusted Since 1907
Rated 'Excellent' on TrustPilot, we stand as a trusted authority in the industry
Commercial Discounts
Speak with our team for a tailored quote on equipment or to kit out your facility
Safe Secure Checkout
We use the most trusted payment processors globally to safeguard your transactions