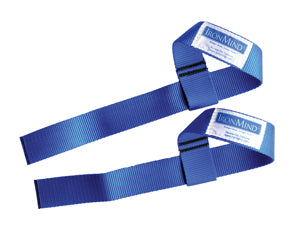 IronMind Strong Enough Lifting Straps
SKU:
APIP02
If you're not using IronMind lifting straps, you're probably not lifting as much as you could be.  Chosen by the world's strongest men: IronMind has the right lifting straps for your lifting requirements.

The Strong-Enough Lifting Straps are the top pro strongman choice with the best general purpose.

21.25" long with loop at one end and 1.5" wide.

Sold as pairs.
Select the IronMind lifting straps that are right for you:
| | | | |
| --- | --- | --- | --- |
| Short & Sweet | 18", no loop | 1-1/2" wide | classic style for Olympic weightlifters; short for bailouts |
| Sew-Easy | 21-1/4", closed loop | 1-1/2" wide | weightlifters of all types; easy to use |
| Strong-Enough | 21-1/4", loop at  one end | 1-1/2" wide | top pro strongman choice; best general purpose |
| Blue Twos | 23-1/4", loop at one end | 1-3/4" wide | extra length/width; for bigger wrists, thicker bars |
| Black and Fourth | 25-1/4", loop at one end | 2" wide | even more length/width; for large wrists, +2" thick bars |
We Also Recommend
Tracked UK Delivery from £5
Over 90% of orders placed before midday (12 noon) are received the next working day
Trusted Since 1907
Rated 'Excellent' on TrustPilot, we stand as a trusted authority in the industry
Commercial Discounts
Speak with our team for a tailored quote on equipment or to kit out your facility
Safe Secure Checkout
We use the most trusted payment processors globally to safeguard your transactions