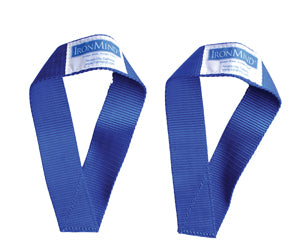 IronMind Sew-Easy Lifting Straps
SKU:
APIP01
If you're not using IronMind lifting straps, you're probably not lifting as much as you could be.  Chosen by the world's strongest men: IronMind has the right lifting straps for your lifting requirements.

The Sew-Easy Lifting Straps are for weightlifters of all types, easy to use.  

New longer length: 21.25" closed loop and 1.5" wide.

Sold as pairs.
Select the IronMind lifting straps that are right for you:
| | | | |
| --- | --- | --- | --- |
| Short & Sweet | 18", no loop | 1-1/2" wide | classic style for Olympic weightlifters; short for bailouts |
| Sew-Easy | 21-1/4", closed loop | 1-1/2" wide | weightlifters of all types; easy to use |
| Strong-Enough | 21-1/4", loop at  one end | 1-1/2" wide | top pro strongman choice; best general purpose |
| Blue Twos | 23-1/4", loop at one end | 1-3/4" wide | extra length/width; for bigger wrists, thicker bars |
| Black and Fourth | 25-1/4", loop at one end | 2" wide | even more length/width; for large wrists, +2" thick bars |
We Also Recommend
Tracked UK Delivery from £5
Over 90% of orders placed before midday (12 noon) are received the next working day
Trusted Since 1907
Rated 'Excellent' on TrustPilot, we stand as a trusted authority in the industry
Commercial Discounts
Speak with our team for a tailored quote on equipment or to kit out your facility
Safe Secure Checkout
We use the most trusted payment processors globally to safeguard your transactions