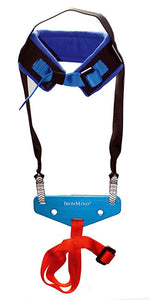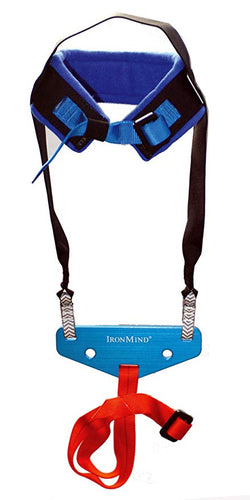 IronMind A Headstrap Fit for Hercules
SKU:
SPIH10
Don't be a pencil-neck--get strong from head to toe. Beautifully crafted, Wicked-Strong, and adjustable, holding 1,500 lb., the Headstrap Fit for Hercules comes to the rescue. Just 3 minutes of neck training 3 times a week will make you feel great--and no more 14" shirts.
Adjusts to fit heads from 20" to 26", comfortable yet holds over one ton. The aluminum frame is designed for training the front, back and sides of your neck. Either hang the weight directly from the red webbing belt, or for added convenience, use a loading pin and carabiner.
Use the center slot on the blue aluminum frame to train the muscles on the front and back of your neck; use the round holes in the sides of the frame to train the muscles on the sides of your neck.
Start easy, or you can end up with some very sore muscles, and always use immaculate form--no jerky movements and always stay well within your natural range of motion. Use a moderate weight and keep your reps in something like the 10 to 15 range.
We Also Recommend
Tracked UK Delivery from £5
Over 90% of orders placed before midday (12 noon) are received the next working day
Trusted Since 1907
Rated 'Excellent' on TrustPilot, we stand as a trusted authority in the industry
Commercial Discounts
Speak with our team for a tailored quote on equipment or to kit out your facility
Safe Secure Checkout
We use the most trusted payment processors globally to safeguard your transactions