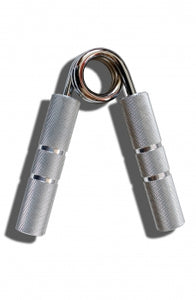 Baraban Aluminium Handgripper with Chrome Spring
SKU:
SGBG10-1
Searching for an eye catching gadget in your training equipment? Then we have a solution for you: the aluminium handgripper.
The aluminium handgripper with chromed spring will be your special training device. Due to the chromed spring it will neither rust nor hold dirt and dust.
Through the knurling on both aluminium grips the aluminium handgripper lies comfortably in your hands even in challenging training sessions.
RB 70 & RB100 Chrome Spring: Robert Baraban's Beginner I level gripper. A good place to start if you've done some weight training in the past but no specific grip training.

RB130 & RB160 Chrome Spring: Robert Baraban's Beginner II level gripper. This is the first Baraban gripper that will really challenge a strong woman or man with some weight training experience.

RB180 & RB210 Chrome Spring: The RB180 & RB210 is well into the Novice category and will challege all but the really hard core female strength athletes and most well trained male lifters.

RB240 Chrome Spring: The RB240 is Baraban's Intermediate Level Gripper. This gripper is a great goal for a serious female strength athlete and a real challenge to men with no specific grip training under their belts.

The RB260 & above is a real difficult advanced level gripper. The RB260 is an expert level gripper
We Also Recommend
Tracked UK Delivery from £5
Over 90% of orders placed before midday (12 noon) are received the next working day
Trusted Since 1907
Rated 'Excellent' on TrustPilot, we stand as a trusted authority in the industry
Commercial Discounts
Speak with our team for a tailored quote on equipment or to kit out your facility
Safe Secure Checkout
We use the most trusted payment processors globally to safeguard your transactions