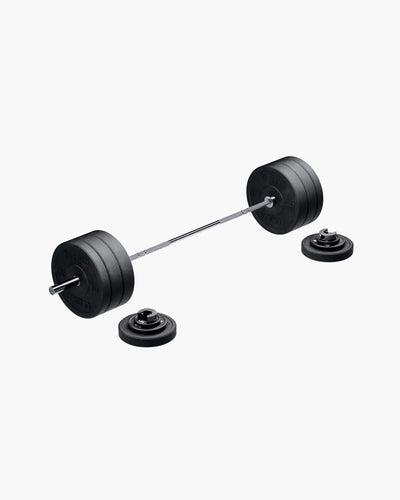 Eleiko 128kg XF Set
SKU:
BDES63-1
Functional Training Set
XF Bars and Bumpers
Öppen Collars

Everything you need for multi-purpose hybrid strength training, especially workouts that include high volume lifting. The sets feature Eleiko's XF range of bars and bumper plates along with the black change plates and Oppen Collars, they are ideal for functional fitness in a facility, garage or home gym.

XF Bars: Combine needle bearings and bronze bushings to ensure optimal spin for explosive Olympic movements without compromising performance in heavy powerlifts. It features our least aggressive 1.0 knurling offering control and comfort for higher volume training sessions.

XF Bumpers: Compressed recycled crumb rubber bumpers are soft yet durable providing fantastic sound dampening and shock absorption.

Eleiko Öppen Collars: User-friendly, open-sided collars improve lifting experience

Change Plates: A minimalistic design with raised edges for easier handling and a snug, secure fit that takes less space on the sleeve.

The 128/123kg Eleiko XF Set includes:
1x Eleiko Mens XF Bar (20 kg) OR  1x Eleiko Womens XF Bar (15kg)
1x pair Öppen Collars
2x Eleiko Change Plate 1.25kg
2x Eleiko Change Plate 2.5kg
2x Eleiko XF Bumper Black Disc 5kg 
2x Eleiko XF Bumper Black Disc 10kg
2x Eleiko XF Bumper Black Disc 15kg 
2x Eleiko XF Bumper Black Disc 20kg 
We Also Recommend
Tracked UK Delivery from £5
Over 90% of orders placed before midday (12 noon) are received the next working day
Trusted Since 1907
Rated 'Excellent' on TrustPilot, we stand as a trusted authority in the industry
Commercial Discounts
Speak with our team for a tailored quote on equipment or to kit out your facility
Safe Secure Checkout
We use the most trusted payment processors globally to safeguard your transactions